[Hua Ruijian Recruitment] Waiting for a vacant position, sincerely recruiting elite "eagles"
---
---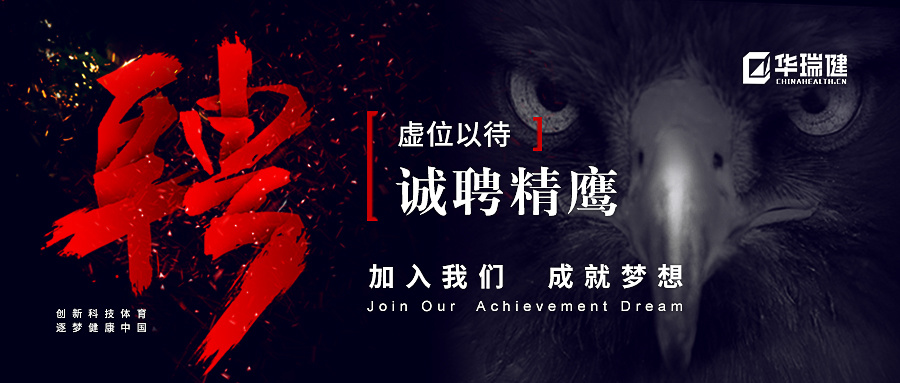 Shenzhen Huaruijian Sports Technology Co., Ltd. (Chinahealth) is a domestic high-tech enterprise specializing in the promotion of directional sports culture and the research, development, and production of sports electronic information products. The Chinahealth electronic clocking and timing system developed and produced is the first domestic research and development and success The directional and radio direction finding teaching competition system put into market application has reached the world's advanced level. The product has been recognized by the China Radio and Orienteering Association, the Ministry of Education, the Chinese University Sports Association, the Chinese Middle School Sports Association, the Chinese Student Orientation Association, and the education and sports authorities of various provinces and cities, and enjoys a good reputation in the industry. It has supported the National Student Championship for 18 consecutive years and has been highly praised by professionals in orienteering and radio direction finding.

Shenzhen Huaruijian Sports Technology Co., Ltd. is determined to work hard for the promotion and popularization of orienteering and direction-finding sports in China, for the electronic information construction of the traditional sports industry, and for the realization of the dream of "healthy China"!
Due to the needs of the company's development, we are now looking for elite "Eagle" from the society
Waiting for you to join
future
Hua Ruijian will focus on
"Innovative technology sports, dream of healthy China"
Value proposition
We look forward to witnessing with you
Hua Ruijian's targeted growth
Recruitment position
1. Sales manager
Job Responsibilities:
1. Responsible for the sales and promotion of company equipment and other related products and projects;
2. Responsible for the planning and execution of sales activities in the sales area, and complete sales tasks;
3. Exploit new markets, develop new customers, and increase the scope of product sales;
4. Responsible for the collection of market information in the jurisdiction and analysis of competitors;
5. Manage and maintain customer relationships and long-term strategic cooperation plans between customers.
job requirements:
1. College degree or above, marketing and other related majors are preferred;
2. At least 1 year of work experience in the sales industry, those who love sports or have engaged in sports goods and other related industries are preferred;
3. Quick response, strong expression skills, strong communication skills and communication skills, and affinity;
4. Possess a certain market analysis and judgment ability, and a good sense of customer service;
5. Have a team spirit, a sense of responsibility, good at challenges, and adapt to business trips.
2. Draftsman
Job Responsibilities:
1. Draw a directional movement map;
2. According to the needs of the site, conduct on-site surveys;
3. Design of the event route;
4. Use map software knowledge to make map data, etc.;
job requirements:
1. Proficiency in drawing software such as OCAD, CAD and Photoshop;
2. More than 1 year of relevant work experience, and electronic map work experience is preferred;
3. Proficiency in computer application and a certain operating basis;
4. Careful work, able to bear hardships and stand hard work, adapt to business trips are preferred.
3. Electronic component welding maintenance engineer
Job Responsibilities:
1. Responsible for production and maintenance of electronic products returned by customers
2. Responsible for the maintenance and debugging of the company's products
3. Responsible for statistics of product maintenance data
4. Responsible for the discovery, feedback, analysis and summary of abnormal problems during the overhaul.
job requirements:
1. Have a college degree or above, be familiar with electronic components, have a certain foundation of electronic technology, and have more than one year of experience in electronic product maintenance;
2. Familiar with soldering, know how to use soldering iron and air gun, and be familiar with commonly used SMD electronic components;
3. Have strong hands-on and analytical skills;
4. Familiar with the technological process of electronic products; have the spirit of hard work and no complaints, unity and cooperation.
what are you waiting for
Act quickly
Post your resume
Hua Ruijian is looking forward to your joining
Let the ideal but not mediocre you
Become the star that illuminates your path
Resume delivery path
Way 1:
Send your resume to HR mailbox (hrjmail@126.com)
Way 2:
Contact matter manager
Ms. Xin
Contact: 13325298858
---